Advancing the Status of Women Worldwide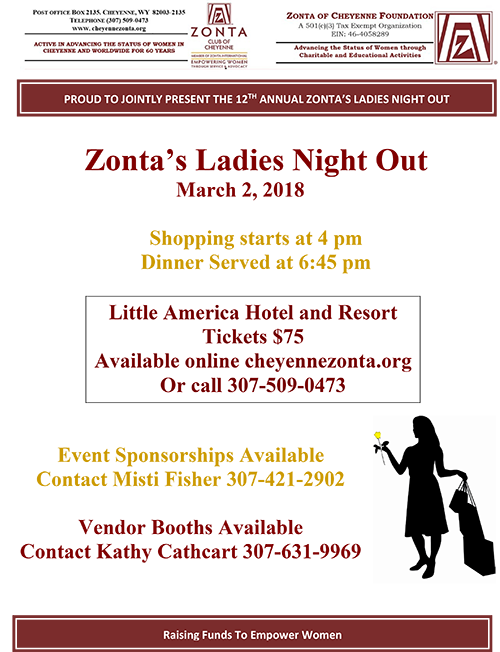 2017 Zonta Ladies Night Out was a big Success!
ZLNO was thrilled to host 325 attendees, 36 vendors, good dinner, amazing speaker, delicious food to raise money to Stop Violence Against Women. The place was rocking!
A highlight of the night was our Keynote Speaker, Pastor Yevette Christy
Yevette Christy is an advocate for women who are enduring, or have endured the devastating effects of violence against women, and women that have experienced sexual abuse. Ms. Christy's childhood and early adulthood was greatly defined by domestic violence and sexual abuse. For more than fifteen years Ms. Christy, due to drug addiction, was a part of the reality of human trafficking. After many years, she emerged from the shadows of her past. In 2009, Ms. Christy received her Bachelors of Science in Religion from Texas Wesleyan University in Forth Worth, Texas. In 2015 she graduated from the Iliff School of Theology in Denver, Colorado. She currently serves as the Pastor of Community United Methodist Church in Westcliffe, Colorado.
Thank you to these Vendors that made the 2017 Ladies Night Out a great night!
All That Jazz: Jalainna Ellis
Sandy K Designs: Sandy Bordsen
The Prairie Rose: Rachel / Audra
LuLaRoe: Lindsey Belmonte
Tupperware: Michelle Shimmin
LJ's Lip Bliss: Laura Jeffrey
Damsel in Defense: Kayla Robinett
Pure Romance: Amanda Walsh
It Works!: Amy Langley
Wyoming Dream Alpacas: Kathy Boltz
The Cocoa Exchange: Karen Clark- Bond
Artful Hand – Rawhide Studio: Georgia Rowswell
Premier: Kristie Wilson
Goodwine Photography: Stacy Goodwine
Three Crows Gallery: Beth Rulli
Terry Kreuzer: Terry Kreuzer
Aflac: Greg Jourgensen
doTerra: Rhianna Brand
Daisy Dazzel: Joan Haggerty
Mary K: Teasia Levin
Thirty One: Derede Darden
Rachelle Rose Designs: Rachelle Barkhurst
The Hilde Project: Rachelle Barkhurst
Cathy Spencer Jewelry: Cathy Spencer
Zonta Raffle: Kathy Cathcart
Pampered Chef: Jennifer Levengood
Touchstone Crystal: Kendall Eisele Roberts
New York Life: Lori Millin
Z Club: Dr. Aldrich
Zonta Club: Jaime Davis
Tara Pappas Art: Tara Pappas
Vintage and Treasures, antiques and gifts: Jerry Reinholz
Marigold Global Boutique LLC: Annalee Irani
Zonta Bags: Misti Fisher
Gold Canyon: Becky Nelson
Home Depot: Angelique Kennedy
ERA: Davin Walters
Posh: Jennifer Dunn
Paparazzi: Erinn Riney
Younique