Advancing the Status of Women Worldwide
Z Club
Z Club – Triumph High School, Cheyenne, Wyoming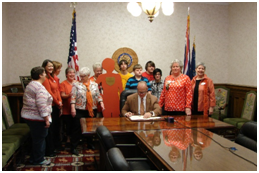 Governor Mead signing Proclamation Against Domestic Violence
Triumph High School Z Club in attendance
Established in 1948, the Z Club program is one of Zonta International's longest-running programs. Z clubs help high school students develop leadership skills, promote career exploration and encourage members to participate in community, school and international service projects.
With the help of experienced Zonta sponsors, who provide resources, information and guidance, Z club members (high school students) work to improve their society and the world. Z club organize and participate in unique activities designed to meet the needs of members, their schools and the community, while emphasizing an international outlook and strong international relations.
In July of 2012 a Z Club charter was presented to students at Triumph High School. The club focuses on activities that emphasize elimination of domestic violence. The Z Club meets the first and third Wednesday each month during the school year. Zonta members mentor students, sponsor community service projects and raise funds for service organizations. A Z Club student representative reports on club projects at the general meeting of the Zonta Club of Cheyenne.
Z Club member testimonials:
"I like being in the Club because I get to be part of the community and help women across the world with what they need. I appreciate what Zonta has done for women." – Megan
"I am in the Z Club because I am against domestic abuse." – Austin
"I feel like I am helping people when I participate in the Z Club even if I am still in high school. I feel like I am making a difference." – Sara
"I belong to the Z Club because I enjoy being involved." – Naomi
"I was brought to the Z Club by another member and I really liked it, so I decided to stay and fight for equal rights." – Stephan
"Equality." – Devin