Build a Better World for Women and Girls
History of Zonta of Cheyenne
The Zonta Club of Cheyenne is a member of Zonta International, a worldwide organization of executives in business and the professions working together to advance the status of women through service and advocacy. Zonta International was founded November 8, 1919 in Buffalo, New York. The name Zonta is derived from the Lakhota (Teton Dakota) word of the Native American Sioux people meaning "honest and trustworthy".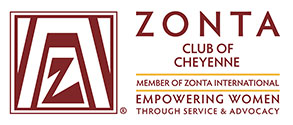 Zonta's emblem is a composite of several Sioux symbols, and was adopted in 1919 to symbolize the combined qualities of honesty, trust, inspiration and the ability to work together for service and world understanding.
The Cheyenne Club was organized in May, 1956. In October, 1956, the charter from Zonta International was presented to Helen Cobb, President. In the fall of 2016 the Zonta Club of Cheyenne will celebrate its 60th birthday. Since 1974 the Zonta Club of Cheyenne raised funds through their annual Antique Sale. The sale ran for 35 years. Proceeds from the sale helped numerous local organizations dealing with women's issues, scholarships for high school and college women and Zonta International projects. In 2007 President Cory Meyer started the "Zonta Ladies Night Out" that would raise awareness of women's issues while featuring women owned businesses. Each year it has grown in participants and proceeds.
In July of 2012 a Z Club charter was presented to students at Triumph High School. The club focuses on activities that emphasize elimination of domestic violence and meets monthly. Zonta members mentor students and students report on their projects at the clubs general meetings.